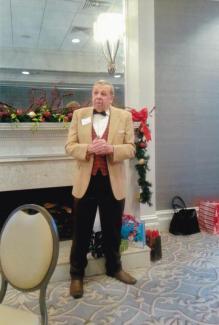 Geology Colloquium - GG Building 200A or via Zoom
About the Speaker:
Charles R. Livingston - 45 Years As A Professional Geologist
Getting registered as a professional geologist in several states and my involvement in getting registration of geologists  in Georgia. My recommendation to you about getting registered.
 The benefit of belonging to a professional geology organization. What it has meant for me, and my recommendation to you.
 Geology investigations: six nuclear power plants, four oil refineries, dams (all over the country), roads, bridges, skyscrapers, solid waste facilities, hydroelectric facilities,  environmental cleanup (including a superfund site in Ohio and the Raritan Arsenal near Edison, NJ), industrial minerals, coal, oilfield scenarios in Prudhoe Alaska and the western portions of Colorado and Wyoming. I will provide tips about things I learned on some of these projects  that could be of benefit to you.
Serving as an expert witness in Georgia and Alabama, and some things you definitely need to know about this type of work.
The catastrophic failure of the Kelly Barnes Dam near Toccoa, Georgia on November 6, 1977, which led to a new nationwide dam safety program. My involvement in that program which led to me conducting a dam safety evaluation of dams in Colorado, Arizona, Washington, Nebraska, California, Idaho and  Nevada. I learned a lot on this work, and I will share it with you.
Consulting work for U.S. Government entities: the Internal Revenue Service, the Department of Justice, the Corps of Engineers, the Bureau of Reclamation and the Forest Service. I will discuss this a little bit, and talk to you about how you may be able to get some of this work.
Thinking "Out-Of-The-Box": Plant Hatch nuclear site / Richard Russell Dam.
Giving geology talks to grade school  kids and professional groups of people (Martin Luther King scenario).
Helping other people along the way.
Host: Dr. Valentine Nzengung
This is a hybrid event, if you are unable to join us in person please join via zoom. 

Note: A password is required to join this meeting. Please call the Geology office (706-542-2652) and speak with a representative to obtain the code. Alternatively, a code request can be made to

UGA Geology

.