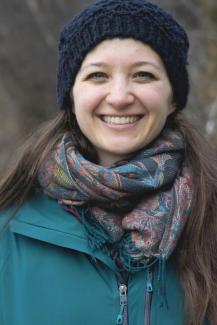 Dr. Franziska Lechleitner
University of Bern
Geology Colloquium - virtual via Zoom
Abstract:
Terrestrial ecosystems are an important part of the global carbon cycle. However, their response to ongoing anthropogenic climate change remains poorly understood, due to their inherent complexity and the multitude of biological, chemical, and physical processes shaping them. Understanding processes occurring in the Critical Zone, the Earth's permeable surface layer that extends from the top of the tree canopy to the bedrock, is crucial for understanding terrestrial ecosystems from a holistic perspective. Critical Zone processes are essential for a number of societal issues such as food security, drinking water quality, and ecosystem services such as carbon sequestration.
In this talk, I will show how karst regions, and caves in particular, can be valuable archives of Critical Zone processes, as they allow us to enter the deeper parts of the unsaturated zone and characterize geochemical cycling both on spatial and temporal scales. With a focus on the terrestrial carbon cycle I will show how speleothems, secondary cave carbonate deposits, can serve as archives for past soil respiration (the temporal scale). Moreover, I will present data from an ongoing monitoring campaign that can inform us on carbon cycling deep in the unsaturated zone, a poorly known component of the terrestrial carbon cycle (the spatial scale).
About the Speaker:
Dr. Franziska Lechleitner
Laboratory for the Analysis of Radiocarbon with AMS (LARA)
Department of Chemistry, Biochemistry and Pharmaceutical Sciences
& Oeschger Centre for Climate Change Research
University of Bern
Short Bio:
Master and PhD: ETH Zürich, PhD graduation 2016, supervisors Prof. Tim Eglinton and Prof. James Baldini (Durham University, UK).
Postdoc: 2017-2020 Oxford University on a SNSF postdoc mobility fellowship
Since March 2020 at Bern (Laboratory for the analysis of radiocarbon with AMS), since September 2020 SNSF Ambizione fellowship.
Since October 2022: deputy group leader at the Laboratory for the analysis of radiocarbon with AMS.
Host: Dr. Mattia Pistone
This is a hybrid event, if you are unable to join us in person please join via zoom. 

Note: A password is required to join this meeting. Please call the Geology office (706-542-2652) and speak with a representative to obtain the code. Alternatively, a code request can be made to

UGA Geology

.