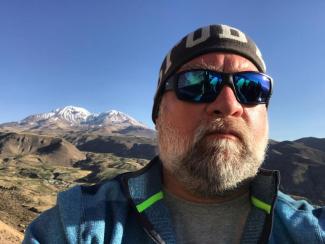 Dr. Glenn Gaetani
Woods Hole Oceanographic Institution
Geology Colloquium - GG Building 200A or via Zoom
Abstract:
Globally, 500 million people live in close proximity to an active volcano and – on average – there are 50 to 70 volcanic eruptions each year. Hazards associated with volcanic eruptions include lava flows, airborne volcanic ash, and pyroclastic flows comprised of a dense, hot mixture of lava blocks, pumice, ash, and volcanic gas. One prerequisite for mitigating volcanic hazards is an understanding of the variables that influence the explosivity of eruptions. The depths at which magmas are stored, their pre-eruptive volatile contents, and the rates at which they ascend to the Earth's surface are interrelated and exert important controls on the dynamics of volcanic eruptions. Basaltic magma typically becomes vapor saturated during ascent from the mantle. Their pre-eruptive volatile contents are, therefore, controlled largely by vapor solubility for the depths at which they stagnate in crustal magma reservoirs. Magmas in deeper reservoirs tend to experience less degassing and are, therefore, more volatile rich than those in shallower reservoirs. Once an eruption is triggered and magma begins its ascent toward the surface, nucleation and/or growth of vapor bubbles – driven by degassing – influences magma viscosity, buoyancy, and ascent rate and, thereby, eruptive style. Magma ascent rates are particularly difficult to quantify because of the lack of geospeedometers that are appropriate for processes that occur on timescales ranging from hours to days. Small pockets of melt that become trapped within growing olivine crystals (melt inclusions) preserve information on both the depth to magma reservoirs and the time it took for the host magma to ascend to the surface. In combination, these data can be used to derive magma ascent rates.
About the Speaker:
Glenn Gaetani is an experimental petrologist and geochemist who studies upper mantle processes, volcanic systems, and how corals record climate information in their carbonate skeletons. He received his B.S. from the University of Massachusetts, M.S. from the State University of New York at Albany, and Ph.D. from MIT. He was a postdoc at CalTech and a Research Scientist at Rensselaer Polytechnic Institute before joining the Scientific Staff at Woods Hole Oceanographic Institution. He is a Fellow of the Mineralogical Society of America, and was recently awarded the Wilhelm and Else Heraeus Visiting Professorship for Geophysics at Goethe University Frankfurt am Main.
Host:  Dr. Mattia Pistone
This is a hybrid event, if you are unable to join us in person please join via zoom. 

Note: A password is required to join this meeting. Please call the Geology office (706-542-2652) and speak with a representative to obtain the code. Alternatively, a code request can be made to

UGA Geology

.